This morning we participated and helped organise a protest action involving an Abortion Drone that flew from the Republic of Ireland to Northern Ireland at Narrow Waters Castle. After the drone landed safely two women took the pills. At the same time Women on Waves employed a RC speedboat to send over more pills for the women. Making abortion illegal will not keep women from accessing abortion pills, by ship, by mail, through the internet, drone or RC speedboat!
This afternoon at 2.30 pm there will be another protest in front of the Court of Appeal in Belfast when the appeal regarding the decision by the High Court that Northern Ireland's abortion law breaches the European Convention on Human Rights will be heard.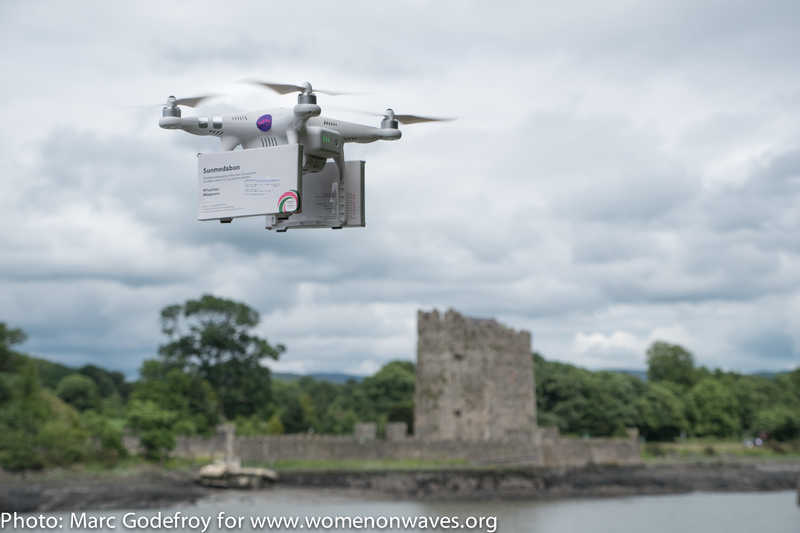 Courtney Robinson of Labour Alternative and  one of the women who swallowed the pills states: "Information whether I am pregnant or not  is protected by my right to privacy. The right to safe abortion should be a private matter but by criminalizing it has instead become a political issue. I have the human right to access and use these medicines. Everybody who supports this is welcome at the protest at the High Court in Belfast at 2.30 today."
Rita Harrold from Rosa states: "Abortion is criminalised in both Northern Ireland and the Republic. We sent the pills across the border today as an act of solidarity with women in NI who are currently facing prosecutions. This is outrageous. Today's action is a clear message of intent – North and South we will build an unstoppable movement of women and young people until women have the right to control their own bodies."
Dr. Rebecca Gomperts from Women on Waves stated: "Research by the world health organisation has proven that an abortion with pills can be done safely at home by women themselves till 10 weeks of pregnancy. The health impact is similar to a miscarriage.  Restrictive abortion laws will not keep women from accessing abortion pills, by ship, by mail, through the internet, drone or RC speedboat!"
The medicines needed for a medical abortion are mifepristone and misoprostol, which is listed as an essential medicine by the World Health Organization since 2005. The right to access essential medicines, including abortion pills is protected by many Human rights agreements. [1]
For more information, please contact:
Labour Alternative
Spokes person: Courtney Robinson: +44- 7470047524
courtneysocyouth@gmail.com
https://www.facebook.com/LabourAlternative/
Rosa
Spokes person:  Rita Harrold: +353872995484
rosacampaign2013@gmail.com
Women on Waves